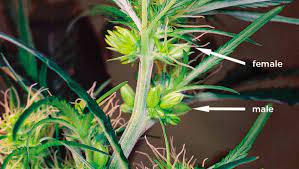 Hermaphrodite in cannabis means a plant has both male and female parts, which can self-pollinate. This term comes from Greek mythology, where Hermaphroditus had both genders.
In cannabis growing, hermaphroditism can happen naturally or due to stress. It's not wanted because it lowers yield and quality. Hermaphrodite flowers have both pollen and pistils, which can make nearby female flowers produce seeds. Growers prefer seedless, top-quality buds, known as sensimilla.
To avoid hermaphrodites, growers control light, temperature, and humidity. They choose stable strains and watch for signs of hermaphroditism, like male flowers alongside female ones, to remove affected plants.
Some breeders create hermaphrodites intentionally to make feminized seeds. They stress a female plant to develop male traits, then use its pollen to self-pollinate other females, increasing the chance of getting female plants.